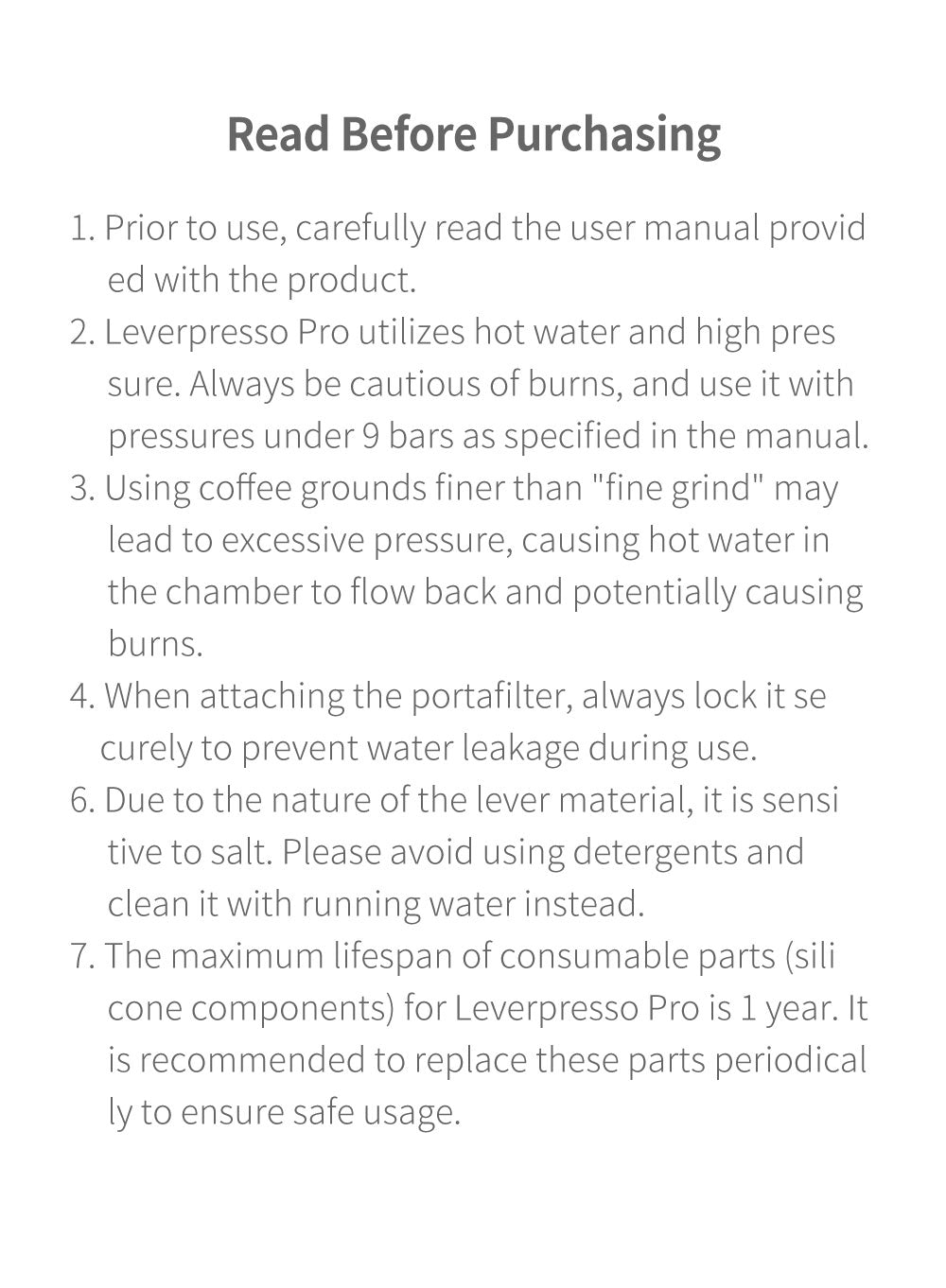 Leverpresso Pro Travel Kit 2.0
The Leverpresso Pro is the culmination of 6 years of product research, customer feedback, and industry expertise. Completely redesigned, this machine was optimized for peak performance, improved durability, and never seen before features.  HUGH Inc. is proud to present a machine that meets the demands of every home barista and coffee lover. 
The Leverpresso Pro is an elegant, but more precise version with clean and classic esthetics.  The addition of the mini pressure gauge allows adjusting the pressure during the extraction more precisely. The extraction is completely manual and you can control the entire experience - the pressure, the amount, and the extraction time to create the perfect cup of coffee. 
The machine has the capacity to create a 60 ml double shot of espresso with 16~20 grams of ground coffee. The Leverpresso Pro has outstanding filtering capabilities enhanced by the use of a special filter basket developed in a collaboration with the IMS Competition Line Filters and HUGH Inc. 
* The Leverpresso Pro is fully compatible with both Leverpresso Stand versions 2.0 and  Pro Stand.
The package includes:
-Leverpresso Travel Case (1)
-EVA Single Case (1)
-Leverpresso Pro Machine (1)
-51mm HUGH by IMS Competition Series Non-Pressurized filter basket (1)
-Leverpresso Stand (Ver 2.0) (1)
-Espresso Funnel (1) 
-Dual Head Tamper & Distributor (51mm) (1)
-Pebble Brewing Bottle (1)
Leverpresso Pro Travel Kit

Dimensions

Travel Case
Product Length: 40cm
Product Width: 28cm
Product Height: 15cm 


EVA Case
Product Length: 23cm
Product Width: 12cm
Product Height: 9cm 

Leverpresso Pro 
Product Height: 208 mm
Product Diameter: 86mm
Filter Basket Size: 51mm
Water Cylinder Capacity: 120ml
Dose: 15-20 gram
Shot Volume: 60ml

Leverpresso Stand (Ver.2.0)  
Product Height: 15.2cm/5.98in
Base Diameter: 12.3cm/4.84in

Dosing Funnel
Top Measurements:
Ring: 74 mm (D)

Base Measurements: 
Outer Ring: 70.18mm
Inner Ring: 52mm 

Base Inner-Ridge Measurements: 
Ring: 65mm
Height: 5mm

Dual Head Tamper & Distributor
Body: 58.9mm (D) x 55mm (H)
Plates: 50.5 (D)

Pebble Bottle  
Product Height: 203mm (8.00 in) 
Product Diameter: 72 mm (2.83 in)
Product Capacity: 473ml (16 oz) 

Filter Basket: 14 Micron Inner Mesh / 200 Micron Outer Filter 
Product Height: 85mm (3.35 in)
Product Diameter: 42 mm (1.65 in)
Product Capacity: 25-35 g (ground coffee)

Weight

3900 grams (8.59 lbs)

Type

Travel case with Leverpresso Pro and the full range of Leverpresso accessories.

Material

Travel Case, EVA case: EVA, plastic


Leverpresso Pro: Stainless Steel, Aluminum, 100% BPA-Free plastic, Silicon, PTFE

Leverpresso Stand: Aluminium Body & Tin Base

51mm Coffee Espresso Funnel/Dosing Ring: Stainless Steel

Dual Head Tamper & Distributor (51mm)

Tamper & Distributor Plates: 304 stainless steel plates
Body & Stand: Anodized Aluminum 

Pebble Bottle: 
Polypropelene, 304 Stainless Steel, Silicone

Color


Black, Silver, Grey
MFR.

HUGH Inc.

 MFR. Country

South Korea

Description

The Leverpresso Pro Travel Case is designed specifically for carrying your Leverpresso Pro and this travel set contains all the accessories you will need for making coffee with Leverpresso Pro. 

 Safety Notice

Leverpresso Pro is designed to be used with pressure up to 9 bar. Applying pressure that is above 9 bar may cause the machine to malfunction or lead to injury.

Always use caution whenever using any manual espresso machine as high pressures and hot water are involved. Read and understand the operations manual fully before operating a Leverpresso Pro.
Leverpresso Pro Travel Kit 2.0